About Us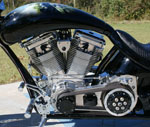 Desperado Motorcycles produces custom designed and individually hand built One-Of-A-Kind American V-Twin High Performance Motorcycles.
Desperado Motorcycles has established themselves as the leading developer of the worlds most advanced custom, one-of-a-kind, extremely limited production (only 100 units per year) motorcycles. Desperado Motorcycles excels both in engineering, design, function, creativity and unbridled performance. At Desperado Motorcycles we have a culture of dynamic innovation and styling that is beyond comparison.
Each Desperado Motorcycle model starts with a clean piece of paper (actually it starts with a blank computer screen, but you get the idea). Each Desperado Motorcycle is just that ... an individual custom one-of-a-kind motorcycle. Unless we are building a matched set of motorcycles for a single client we will NEVER build two (2) motorcycles identically the same.
Every Desperado motorcycle is designed and engineered with each individual clients requirements uppermost in the design priority list including, however not limited to, the physical dimensions of the client, lifestyle, riding experience, geographic location of where the client intends to ride the motorcycle most often and more.
Desperado Motorcycles is a Federally Registered Motor Vehicle Manufacturer and as such all Desperado Motorcycles are individually serial numbered with a Federally Registered seventeen (17) digit Vehicle Identification Number (VIN) and issued an original MSO for title and registration purposes. All Desperado Motorcycles are titled as a "Desperado" motorcycle and not some "assembled" or "built from parts" title.
Desperado Motorcycles, as a nationally recognized brand name, is listed in both the Kelley Blue Book and the N.A.D.A. Guide, thereby making a Desperado Motorcycle easy to register, insure and finance.
At Desperado Motorcycles we continue to push the boundaries of technology developing exciting and innovative products for each individual client, one motorcycle at a time!